Etsy Stories
The Etsy community needed a way to "stand out amongst the millions." Etsy Stories allows crafters to create and share their unique stories through a guided visual storytelling process.
Etsy (whom we have no real affiliation with) was looking to help understand their competition, their customers, and looking for new and innovative ideas to help scale their business. In order to do this we planned, constructed, and performed:
Primary and secondary research for Etsy
Customer archetypes
Customer & market insights
Areas of opportunity for the organization
Innovative ideas that would grow their business
Video scenario of final Product
The most important thing we learned from our research is that crafters need a way to "stand out amongst the millions" and that their unique stories behind their craft resonated with customers, creating emotional engagement and a motivation to support their business.
Our solution is the Etsy Stories iOS app which was designed to help crafters create compelling short stories by walking them through a guided storytelling process. They can then feature their stories on their store page.
Every item has a story to tell; tell it with Etsy Stories.
The Etsy stories app is an immersive browsing experience, visualizing the unique and authentic stories behind the handmade goods.
Unique and authentic stories create emotional engagement and a motivation for people to support a business, as well as trust that the product is really handmade.
Great stories have the potential to be shared, thus directing thousands, possibly millions of viewers to Etsy and the crafters store.
Provides crafters with a way of differentiating themselves "from the millions" of others selling similar, or the same product.
Validates trust with the customer, seeing that the item really is handmade by this person.
It's easy to get started.
Just enter a title, brief description of the video, tags, and how you want to shoot the video.
We walk you through how to tell your unique story.
Etsy Stories app teaches crafters how to make engaging videos with helpful tutorials and great examples.
Easily shoot and edit your video on your phone.
No need to transfer your footage. Etsy Stories has a built-in, easy-to-use, editing and sharing features.
This presentation highlights our research methods and goes deep into explaining what we learned from the process. It also contains our insights, opportunities, design solutions, and value statements.
Online Research
We researched all of Etsy's competitors and placed them in a competitive landscape. We learned interesting statistics, and immersed ourselves into the online maker communities conversation, as wella s contributing to it.
Primary Interviews
We conducted nine contextual inquiries with real customers, we prepared interview guides, had designated note takers, interviewers, and transcribers. We even asked them to draw out certain experiences.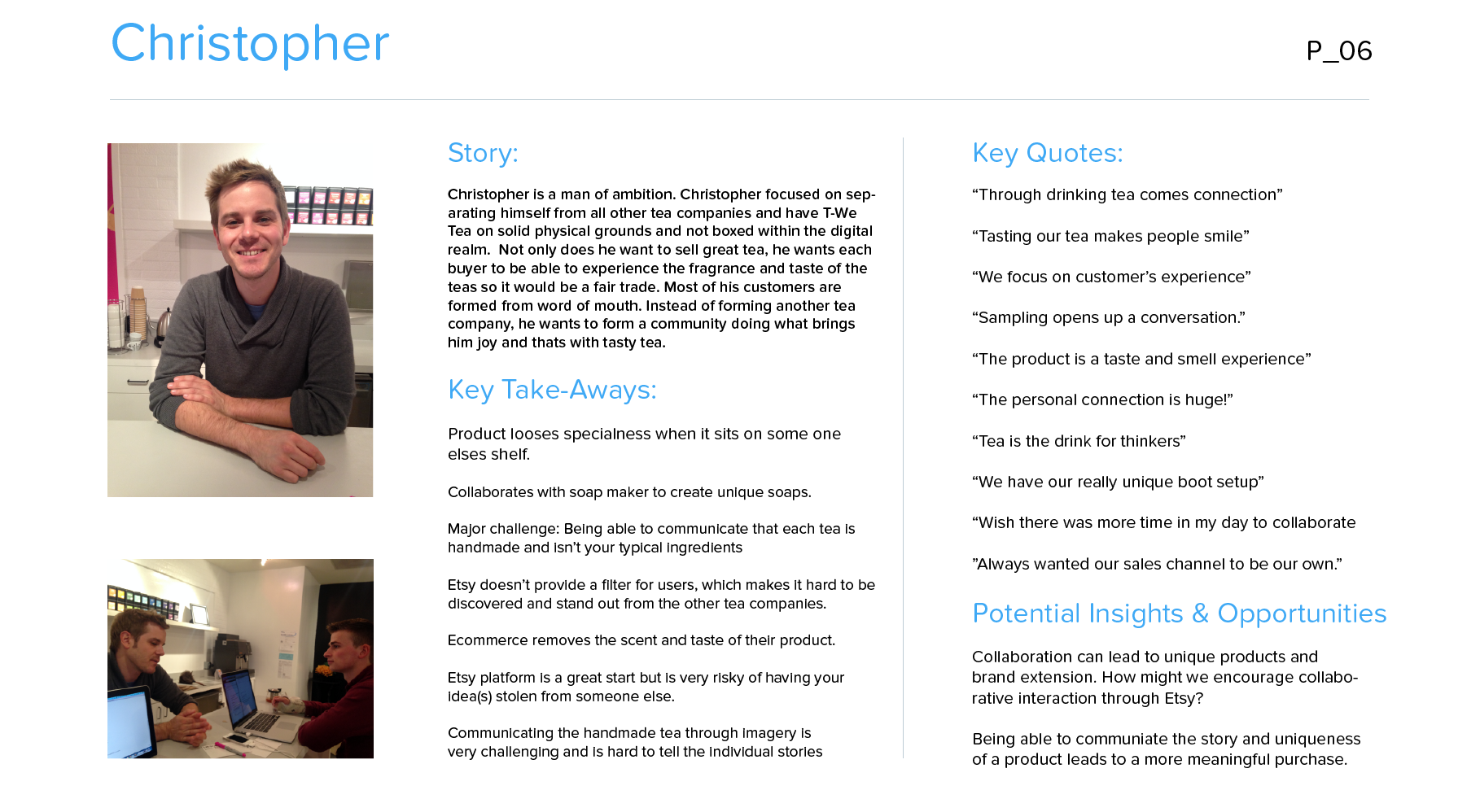 Immersions
To really understand crafters we immersed ourselves into the physical marketplace to distinguish the barriers that etsy's online platform creates.
We learned that people are more likely to buy when they have visually and verbally interacted with the maker, giving the maker a chance to communicate their personality and story behind the craft.
Black Market SF Emotional Journey Map
Archetypes + Frameworks
We developed three archetypes that describe Etsy sellers. This can help Etsy understand who their main three types of sellers are and how they can design for them.
Value to Business, User and Brand
Class: IXD4: Design Research & Time Studio 2: Storytelling
Key Role: Design Researcher, Interaction Designer, Visual Designer, Co-Director, Co-producer.
Deliverables: Video Scenario, Research Readout, Product Renders
Team: Tarang Gala, Kelly Stuckey
Date: 2014
Length: 4 weeks
Process Highlights
Competitor One-Sheeters
Online Immersive Research
Interviewing with subject matter expert, Julian
Manager of StoreEnvy , maker, and organizer of black market SF. Julian is a huge part of the Bay Area Handmade community and was one of our Subject Matter Experts.
Synthesis of research data
We took all our data and clustered it into themes. We then looked for more complex patterns within the data. We took these patterns and we hypothesized why they were occurring. We then took our answers, wrote them out as insights, and created opportunity statements for each one.
Developing Etsy's Customer Archetypes
In order to help etsy understand their customers, we developed customer archetypes which categorizes hand-crafters into three categories
Iterating on archetype frameworks
Rating opportunities & Concept Spectrum: Revolution to Evolution